Custom Model Build


Built on J+D's proprietary software to meet specific brand and forecast needs
J+D forecast model build which took weeks is now achievable in days, delivering your forecasting solution sooner.
J+D have been providing solutions for global forecasting problems for decades and understand the challenges and needs of pharmaceutical and biotechnology companies.
Our 20+ years' experience means we have encountered most situations clients are likely to approach us with, and this expertise means we are now able to deliver high quality forecasting solutions in a fraction of the time without compromising quality or flexibility, whilst also significantly lowering upfront cost.
By leveraging our wealth of experience gained from working with a wide spectrum of clients, we have developed a proprietary tool targeted at common pain points, specifically the time required to build models, usability, reliability and consequentially the cost implications. Our model design makes it easy to use for all abilities, supporting local and global collaboration and built in Excel, a familiar place to forecast, with added cloud compatibility for simple process integration with existing applications, including our FC365 platform.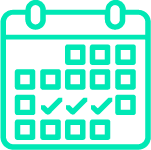 Faster model build
With our internal software at the core of the build, project development time is reduced by up to 80%, so that clients have the models they need sooner, especially important when complex models are needed quickly, to allow time to effectively prepare for commercial launch of new product lines.
Customized functionality
With the core structure based around the most appropriate forecasting methodology, models can be tailored based on clients' specific needs with all variables considered such as the stage in the product lifecycle, disease area, final output objectives, experience level of users and the level of organizational processes, to provide a truly tailored solution for in-house models.
Lower cost
Custom model build can be a significant investment for pharmaceutical companies, with budget acting as a barrier to having the models they need, when they need them. With J+D model building capabilities, we have reduced the cost by up to 60% of the investment previously required, making our solution more competitive and therefore more attainable.
Quality built in
At J+D we take a collaborative approach to every project, engaging with global stakeholders to ensure the final solution aligns with all needs and expectations. Models are built using best practice principles in Excel, as the flexibility, technical depth and familiarity make it the forecasters tool of choice.

Expert Support from J+D
Ongoing software updates and support gives even more value by keeping compliance high and extending the life of the models. Added access to in-depth training and support services from J+D's expert consultants ensures high quality forecasting for insightful analysis of opportunities across affiliate teams. Read how we helped a big pharma with their custom model needs
My colleagues and I love the J+D models in terms of usability and aesthetic appeal. The President and Vice-Presidents on my team tell me the models include everything they need to accurately forecast current and future product launches.

Senior Business Analyst, Big Pharma
The fast build means the new line extension can now be modelled in detail and be easily explored and provide insightful consolidation and comparison of affiliate forecasts. All this was ready for our next LRP cycle.

Global Senior Brand Leader Rare Diseases, Big Pharma